Sophia-Antipolis library
Collections
Located in the historical building of Ecole des Mines' Côte d'Azur branch, one of the premier institution of the Sophia Antipolis techno-park, the Sophia Antipolis library has been welcoming members of Mines Paris and the outside public by appointment since 1976.
It offers a work room and a documentary fund specialising in the disciplines of  the local research centers and courses: Energy, Materials, Polymers, Computer Science, Automation and Risk Management.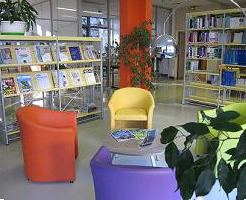 Coming to the library

Bibliothèque Mines
1 rue Claude Daunesse
CS 10207
06904 Sophia Antipolis Cedex
Monday to Friday, 9 a.m. to 5.30 p.m.

Closed between Christmas and New year's day and for part of August
Contact us: bib_sophia@mines-paristech.fr