Paris library
Created in 1794, the library is located in the duchesse de Vendôme's former private hotel since 1815. The reading room was inaugurated when the School was presented with the war cross for WW1 by maréchal Foch (1926).
The library receives all users, upon compulsory free registration. Its collections cover the School's many fields of study and research:
energy and processes, mechanics, materials, economics, management, society, mathematics and systems, history of science, scientific culture, arts, humanities, languages. Its special collections are also accessible. How to register?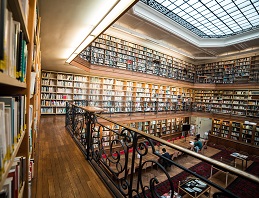 Coming to the library

Bibliothèque Mines Paris
60 boulevard Saint-Michel
75006 Paris

RER, Bus : Luxembourg
Monday to Friday from 9.00 a.m. to 6.30 p.m.

Closed between Christmas and New year's day and for part of August